CECIL PECK
Automated Tank Press
The tank press in the upper photo was designed to operate in a fully automatic system with no operators. All tank components are loaded by robot and the finished tank is unloaded by robot and sent to the next welding station. Cycle time is 20 seconds to flare shell, install heads, and close seam on heads. This machine holds 4 different diameters of flaring and closing dies so that size change is done by program selecting diameter and length. Automatic change over to a different diameter and length takes seconds to complete.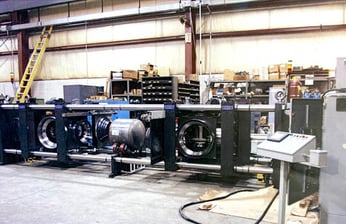 The bottom image shows a system that was designed
to operate with a thru feed conveyor to supply tank shells in the front and finished tanks out the back. Cecil Peck can design and build complicated presses like this or much simpler machines that are manual load and unload.