CECIL PECK
Boom Tube Welder
Custom Designed Automation to Fit Your Welding & Work Piece Needs
Cecil Peck has a reputation for building high quality, durable, custom machinery that continues to perform year after year. Each machine is designed to our customer's specific needs and requirements. This reputation and the ability of every Peck Machine to perform as designed is why customers have returned to us repeatedly for new applications, designs and machinery as their product lines change and expand.
Depending on your weld parameters and requirements a 40 ft. boom section can be fully welded in as little as 30 minutes.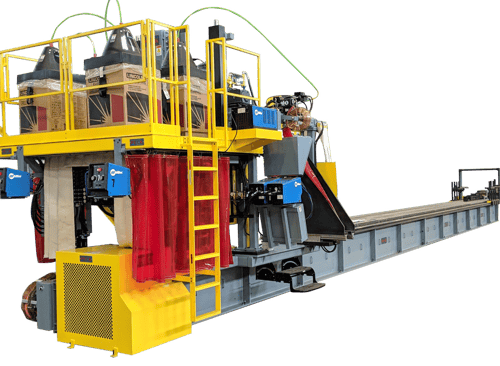 Automatic Weld Cycle:
Outside weld
Inside weld
Stiffener plate
Standard Safety Features:
Infrared safety curtain
UV protectant curtain
Fire retardant felt curtains
Multiple Emergency Stops
Safety guards
Applications:
Customizable to your application
Crane booms
Telescopic material handler
Longitudinal welds of formed or 4–plate booms
Options:
Smoke Collection
Side Sheet Preheat
Machine paint color
Longitudinal welds are achieved in one cycle.
Multiple welding process can be integrated.
Weld formed and four–plate booms.
Capable of neutral axis welding.
Standard boom size range:

6" to 32" wide
6" to 40" tall
40' long

Up to 12 mounted welding torches,

6 can run simultaneously.
6 outside seam welder
2 inside seam welder (min. 9" high)
2 stiffener plate welder
2 neutral axis
Tack torch included.
Heat Sink Table to reduce distortion.
Gantry platform can hold up to 6 barrels of welding wire.
Weld speed: approx. 17—27 inches per minute depending on weld parameters.
Gas flow and water flow sensing.
Squaring fixture and side sheet supports help to minimize distortion.
Custom mandrels and weld shelf rollers.
Quick changeover between boom sizes.
Programmable HMI for quick program recall.
Can store up to 100 programs.