In our 75-year-history, we have designed and produced a wide variety of automated welding machines. This page highlights just a few of them to showcase the custom solutions we can offer.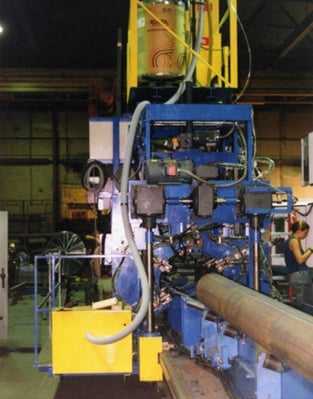 Tapered Pole Welding Cell
The Peck Tapered Pole Gantry Welder was designed and manufactured for closing and submerged arc welding the seam on 45' long tapered poles. Pole diameters ranged from 3.5" to 24". This machine is part of a welding cell consisting of two Tapered Pole Gantry Welders, one loading conveyor, and one unload conveyor system.
Four Seam Submerged Arc Weld (SAW) System
This equipment was designed and manufactured to produce a Navy missile cradle weldment by simultaneously welding all four seams. The machine loaded the parts into the machine, clamped them and welded them without a need for tack welding. The gantry carried the welding heads, preheat and post heat equipment, seam tracking equipment, flux recovery equipment, and welding wire.
Tram Rail I Beam Welder
This Tram Rail I Beam Welder was designed and manufactured for submerged arc welding of tram rail beams 8" – 48" high by 10' – 60" long with flange widths from 4" – 20" wide. There is a preheat operation, and four torches are used for welding. No tacking is required. MIG welding equipment can also be used.
Conveyor Roller Combination Press & Welder
This machine was designed and built to press and weld pre-greased bearings into finished and unfinished ID tubes. The capacity of this machine is 4"-8" diameter and 7" - 110" length.